COLLECTION OF OLD BOOKS 1700s D.Hume History of England, Ecclesiastical History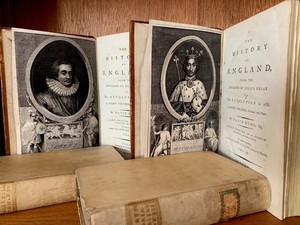 ---
Lot of four antique books:
HISTORY OF ENGLAND 1789 vol 3 and 6 (588, 464 pages)
The History of England written during 1754–61 is David Hume's great work on the history of England, which he wrote in instalments while he was librarian to the Faculty of Advocates in Edinburgh. Books are in great shape, keeping the original binding with some stains on the pages from the library of William Livingstone. Two volumes contain nine engravings none of which are original and were added much later.  Size: 8.5" x 5.5" x 2"
ON THE ECCLESIASTICAL HISTORY OF THE EMINENT CARDINAL GIUSEPPE AGOSTINO ORSI from the the Order of Preachers, continued by F. Filippo Angelico Becchetti of the same Order 1782/81 vol 13 and 14 (496, 502 pages)
Giuseppe Agostino Orsi (1692, Florence - 1761) was a cardinal, theologian, and ecclesiastical historian.Size: 7.5" x 4" x 1.5"See other $0.99 items